Is it Ever too Late to Become a Programmer?
Posted by

Categories

Blog

Date

April 14, 2021
Do you know that the average annual salary for a programmer/developer in the US ranges from 41,200 USD (lowest) to 142,000 USD (highest)? If this isn't fascinating enough, consider this! A report by Evans Data shows that the number of programmers worldwide were 500,000 in 2020, but the numbers to become a programmer continues to rise to a total of 24.5 million in 2021.
Now, if you are thinking of jumping the bandwagon, a few questions might spring up in your mind. Is it too late to make a career change, or precisely speaking, is it ever too late to become a programmer?
We understand you may have numerous other reasons for wanting to switch your career to learn coding. You are not satisfied with your current job and career. You believe your present position does not have a bright future or any other reasons known to you. If this sounds like you, then you should be glad that you are reading this.
Allow us to emphasize that it is never too late to become a programmer in life. There might be some short-term sacrifices, but if you believe, you'll be satisfied in the longer-run. You should stick to your decision to start your new career as a programmer.
At first, it may seem that young programmers have numerous edges over career changers, but that is not true! In fact, there are several advantages to learn programming after 30 or 40 that will give you a lead over younger developers.
So let's see the pros and cons to become a programmer: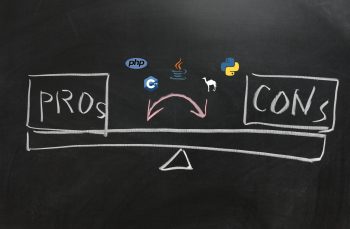 The Cons to Learn Programming Late…
1. Other commitments get in the way
One thing that you will be short on as compared to younger developers is time. You may be a parent or busy in your current career. The fact is, it is extremely hard to manage time to learn coding.
2. Some companies are not a good fit
Generally, the wider the company will be, the wider the range of age they will have. There are reasons for it. For instance, a 5-person company is likely started by a group of friends who are willing to put their best foot forward to lift the company; irregular hours, lack of job security, etc. Such companies are not suitable for older people with numerous commitments.
3. You could be reporting to a younger programmer
If you are getting into tech late, it is highly likely that people a decade younger than you will be interviewing or managing you. There is no real way around it, and the best you can do is get used to it. But there are numerous companies which have vast age diversities.
The Pros to Become a Programmer in Your 30s or 40s…
1. You have previous experience
You have gained an enormous amount of skills from whatever career you have been pursuing until this day. Whether it's managing customers, giving presentations, or being a content strategist – these skills will become transferable. Those 22 years old with a decade of experience in programming don't have this!
2. Tech career change is swift
As compared to learning other sets of skills, to learn programming is way faster! Where other options require numerous certifications, official training, and years of experience; to learn coding takes months—skills that can even be learned at home.
3. You have had time to develop soft skills
Even though developers have the impression of socially awkward geniuses, they cannot fully succeed in the corporate world without having particular soft skills. To name a few, public speaking, negotiations with clients, prioritizing work, and building consensus amongst the team are some of the most pivotal soft skills needed in today's world.
It is Never too Late to Learn Programming
To top it all, you have lived longer than your younger peers and have encountered more real-life situations than a 20-year old. This does matter!
Companies would love to see that you can take real-world problems and build software with the solution. The point is, you can use your unique experiences to develop unusual projects that employers won't see from their average entry-level applicant.
So, way to go and follow your dream, learn coding and become a programmer. You have it in you!
For that to accomplish, Nextbridge Institute in Pakistan can help you learn programming with its excellent set of full stack development courses.