Schools Would Look Like This if Invented in 2022
Posted by

Categories

Blog

Date

October 25, 2021
What if schools were invented today? What if the concept of traditional classrooms were never introduced before? Would you keep everything the same or would you change something today? Knowing the world we live in and the challenges we face each day, we would not want to stick to traditional educational methods anymore. We would opt for interactive classroom technology only. Today's schools will no longer be teacher-centered but student-centered. Today's schools will use interactive classroom technology to make learning easier for students.
Do you know what an interactive school system is?
By Eastman, Interactive Tech in education means students using pads or other gadgets for learning purposes apart from pens and notepads.
If we have to best describe an interactive classroom technology then it would be something like this:
Use of IoT devices like LMS, safety trackers, systematic progress monitoring, supervising the training of instructors, and many more.
Gestural interface technology such as controlling computer devices with hand gestures.
Physical interfaces just as hardware remote controls, physical objects, etc.
Spatial & environmental sensors such as sound levels, environment monitoring systems, and so forth.
Computer hardware
There are a few examples of modern technology in education.
Schools would look like this if invented in 2022
Do you know what type of schools you will witness in 2022? Have you ever experienced interactive classroom technology in your life? If not, your future in school will be proactive due to technology. There are a variety of ways to learn, grasp, or progress in 2022 that are available for everyone even for those who are no longer attending schools.
Are you concerned about your educational goals? If yes, Congrats! Massachusetts Institute of technology proves in research that students and teachers must use interactive classroom technology to achieve educational goals. They believe in advancements that are going on day by day and have faith in this system that has allowed everyone to rely on smart gadgets for learning.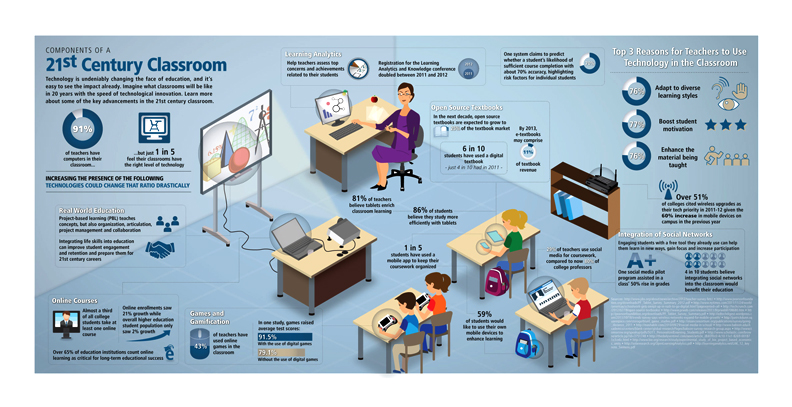 According to them, a classroom is an environment where a student grows up and starts becoming productive; thus, integrating technology into the classroom shouldn't be optional. What do you suggest now? Do you want to rely on the old school rules or make your pace strong enough to robust your learning speed?
The impact of interactive classroom technology (2012–2022)
Do you remember what phones were used in 2012? At that time, Nokia was at its peak, but have you ever heard about it recently? No. Technology evolves day by day and revolves around a rapid pace. In 2012, no one used technology as a useful tool, but it became standard or something credible to rely upon. Many of us had to opt for the physical ways to proceed with things instead of relying on interactive classroom technology.
2015: In 2015, the following educational advancements occurred:
Learning simulations
Adaptive computer-based testing
Game-based learning
2018: In this year, educational technology evolved into government policies to explore literacy and educational programs. It also introduced us to the following advancements:
Digital literacy
Custom multimedia content
Improved tools to analyze text complexity
Open-source learning models
Visual data to replace numerical data
Purely academic standards
2020: 2020 not only experienced COVID-19 but also offered some modern ways of teaching and learning. It allowed us to experience the following educational technologies:
Cloud-based education
Peer-to-peer and school-to-school collaboration
School functions turn into online think tanks
Experiences invisible learning, open-source learning, entrepreneurial learning
Self-directed learning studios
2022: Culture turns into social learning experiences that include social justice, poverty, language, race, and other trademarks. Researchers plan to make your 2022 more tech-friendly through the following advancements:
Dialogic learning
Learning replaces teachers
Mobile learning
Personalized learning algorithms
A progressive transition through eLearning and face-to-face learning
Schools get replaced into diverse learning forms, and they progress old models of content, curriculum, data, personalized academic learning
How is interactive classroom technology impactful to improve education?
Are you exploring technological ways to change your school education system? What do you suggest? Many researchers believe that computers can turn the whole pattern of schools into a new path in 2022.
Do you want your child to learn new technological progressions in the world? Do you want them to enjoy "baby shark song" on YouTube? The decision is yours, and your child's future is in your hands now. Many people criticize having computers or learning through smart devices because face-to-face interaction is attractive and imperative.
Considering both the concerns, researchers have planned to design a new way of teaching or learning known as networked learning communities.
Let's explore what the hype is all about!
Networked Learning Communities
Networked learning communities are institutes that are similar to schools and serve as the organizational nodes in different teaching or learning communities. They deal with libraries, museums, colleges, community centers, etc.
The purpose behind networked learning communities is not to limit the learning purpose with boundaries of classrooms and school buildings.
What is the main goal of networked learning communities?
A networked learning community has different members with different age groups, and their collaboration proceeds to lead to a certain goal. The purpose behind collaborative learning is to resolve any problems and develop new skills through productive collaboration and participation.
Everyone in networked learning communities is a learner and a preacher; there's no teacher or student concept. Every participant cooperates through teaching and learning as a learner, it involves three dimensions, and our schools or colleges only focus on the first of three dimensions.
Three main dimensions of Networked Learning Communities.
Transmission and conservation
In this dimension, the community focuses on its resources and ensures that the young one learns from the experienced one.
Knowledge adaptation
In this dimension, existing knowledge and tradition modify into accommodating new developments.
Invention and knowledge generation
In this dimension, young and old collaborate and start learning new knowledge.
Education is progressing day by day due to interactive classroom technology and manages to assist everyone of any age to learn new things from anyone.
Wrapping up
Do you imagine 2022 as the most effective year for the education sector? Do you want to experience similar learning methodologies? Visit Nextbridge institute in Lahore, Pakistan now. We here are offering modern ways of teaching with the help of tech experts.